Thorsmork 4×4 – A day tour for experienced drivers driving super jeep or large four wheel drive vehicles. Only during summer.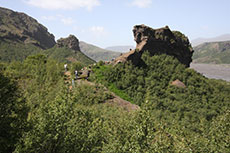 Thorsmork is, from a natural perspective, one of Iceland´s highlights, and therefore a very popular hiking area. It's not easy to get there due to hardly existing roads and unbridged rivers. Therefore a large, super jeep, four wheel drive vehicle, is an absolute necessity with addidion of much experience driving over rivers and rough landscape. You begin the day by driving from Lambastadir Guesthouse to the waterfall Urridafoss. Urriðafoss is a waterfall located in the river Thjorsá in southwest Iceland and is the watermost waterfall in Iceland. In the early days of power companies plans were to build a power plant in Urriðafoss and make a railway to Reykjavík from the waterfall.
It did not happen but now Landsvirkjun Power is planning to build hydropower stations on the lower part of Þjórsár river, at Urriðafoss. In the community there is no consensus about the project and it is pending. From the waterfall Urridafoss you drive towards east and throughout the historical area Rangarvallasysla, the setting of the medieval saga Njalssaga. You will drive to Seljalandsfoss, a beautiful, high waterfall you can walk behind. From there, you will be driving over small rivers and creeks towards your next destination, which is the glacier lagoon at Gigjokull.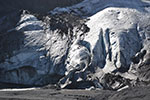 This lagoon actually disapeared in a big flood when the glacier Eyjafjallajokull erupted in april 2010. From there you drive over rivers and rough landscape to Thorsmork. When you arrive at Thorsmork you can hike through the diverse landscape at the glaciers roots. From Thorsmork you head back the same road and stop at Stakkholtsgja for a short while and at last you return to Lambastadir Guesthouse if you are going to stay there for another night. This is an exciting and unforgettable day tour, bringing you good memories of Iceland´s nature.