The Westman Islands – A unique day tour from our guesthouse.
Only during summer.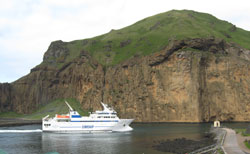 South Iceland´s new harbour creates new possibilities for travelers during summer, a daytour to Westman Islands from the Guesthouse Lambastadir. You will begin the day with driving through the historical area Rangarvallasysla, the setting of the medieval saga Njalssaga. You can stop at Hvolsvollur for a while and then drive to the harbour at Bakki.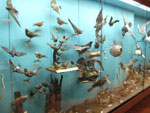 There you take the ferry Herjolfur to Westman Islands. At the islands, you will observe the new mountain Eldfell, that formed in an eruption in 1973, the buzzing birdlife, and the busy fishermen's life at the harbour. You can have a look at the aquarium and the Scandinavian church at Skansinn and small shops located at the main island centre that sell handmade souvenirs. You can take a walk along Iceland´s most recent lava field, which is located high above the street level.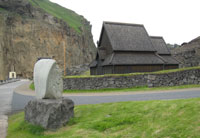 There are also signposts indicating the former locations of buildings that used to be and to aid your imagination. With possible addition to this daydour you can sail around the island Heimaey, with the tour operator Ribsafari or Viking tour and in some cases take land in other islands at Heimaey archipelago, the roundtrip takes about 90 minutes. During summer you will be able to observe the birdlife up close and personal and if you are lucky, you might see whales playing a variety of games. At last, you will take the ferry back to the harbour in South Iceland. On your way from there you can stop at Seljalandsfoss, a beautiful, high waterfall one can walk behind. From there you return to Lambastadir Guesthouse if you are going to stay there for another night.