Dear traveler.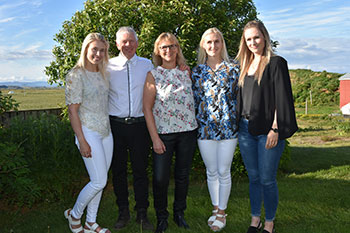 Our name is Almar and Svanhvít and we are the owners of Guesthouse Lambastaðir and the farm Lambastaðir. It was the year 2005 we bought the farm Lambastaðir. We had lived in Selfoss for 15 years and wanted to move where we could have sheep, horses and other animals. In the autumn 2011 we decided to build a guesthouse. We hired a carpenter, his name is Hreiðar and he is the brother of Svanhvít. He also designed the house. The guesthouse was fully built in the spring 2012 and we opened in May that year. We are quite satisfied with our decision and we have had lots of good reviews from our guests, our goal is of course to see the guests happy when they leave.
Trough my life I have worked as a printer and a tour guide. Svanhvít used to work in a bank but the year 2008 she started to learn historian in the Univercity of Iceland, and finished that the year 2011.
We live here with one of our daughters, Harpa, Sólveig and Birna are living in Reykjavik. Harpa is youngest, and she is in school in Selfoss. Birna is in middle and is going to the University of Iceland and Sólveig is oldest and works for Air Atlanta as a dispatcher, making flight documents for the pilots.
Now we have fifty sheep, four horses, seven gooses, seven ducks, chickens, few rabbits, dog and a cat. If you will stay in our guesthouse you are of course welcome to walk around and communicate with our animals. They are all friendly but you have to be aware of their behavior. In all cases we need to access the animals in accordance with their behavior.
We hope you will come for a visit and have a pleasant and exciting stay in Iceland!