Landmannalaugar 4 x 4 – A unique day tour from our guesthouse.
Only during summer.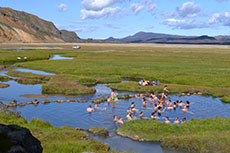 This pearl of the interior is situated in a valley between colorful mountains at the dark edge of the rhyolite lava field Laugahraun. Many hot and cold springs create a warm bathing brook, in the middle of this spectacular setting. You begin the day by driving to the rock ledge Gaukshofdi. There, you have a good view towards the active volcano Mt. Hekla and also over the valley Thjorsardalur, which the year 1104 became deserted following one of Heklas eruptions.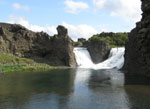 From there you drive to the waterfall Hjalp. The next destination is Thjodveldisber, a farm museum reconstructed according to the medieval farm Stong, which is located a little further up in the valley Thjorsardalur. Now you can drive to the Interactive Energy Exhibition at Burfell Power Station. The exhibition provides a history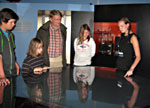 of how these techniques have been used in Iceland over time and invites visitors to look into the future and at the possibility of harnessing power from Geothermal, Wind and Sea sources. From there, you drive up to the highland towards Ljotipollur (Ugly pool), a crater formed in a 15th century eruption. As you will be ready at this point for bathing in a hot natural pool or wanting to go hiking, which ever you feel like doing, you now drive to Landmannalaugar.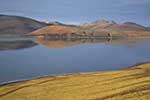 Once you feel energized enough to move on, you drive down Domadalur, a luscious valley just north of the volcano Hekla. At last you return to Lambastadir Guesthouse if you are going to stay there for another night. This is a long day tour where you can expect to see colorful and unusual landscapes. The road to Landmannalaugar is only open during the summer months and is only for experienced drivers driving four vehicle cars.